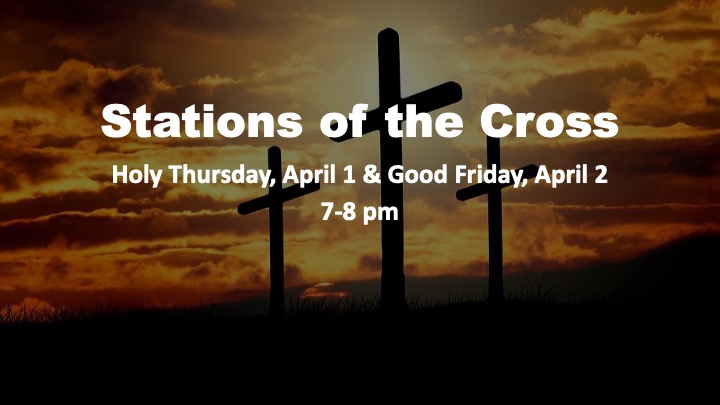 Holy Thursday, or Maundy Thursday, marks the last conversation Jesus has with his disciples, a conversation grounded in what he calls a new commandment (mandatum in Latin, hence our English word "Maundy"). He illustrates and underscores the new commandment by washing their feet: "Love one another as I have loved you."
Good Friday, or Holy Friday as it is known in nearly every non-English-speaking culture, we witness the execution of Jesus, recognize our ongoing complicity with the powers of death, and are called to enter the Great Silence of all creation in response to the death of its God and Maker.
7-8pm for a drive-through "Stations of the Cross" with Holy Communion held on our church's campus.   Come and prepare your heart for Easter! Drive through our parking lot to receive Holy Communion from Pastor Will. View Living Tableaux of the Passion of Christ, narrated by Pastor Will with beautiful musical accompaniment by Brian and Uriah.